When I was nine years old, my body began to change. I grew breast buds. I found hair on my yoni. I started to grow taller than I had ever been. And I began to get fat. I felt like that girl from Charlie and the Chocolate Factory. I was scared. In the course of one school year, I doubled my height and tripled my weight. I went from one of the smallest in my class to the absolute largest. I tell you this not because I'm going to whine
endlessly about my size, but because this was the beginning of a long journey which I will be on until the day I pass into the next realm of existence.
As my mother and I watched my body transform, we started seeing a menagerie of physicians: pediatricians, endocrinologists, nutritionists, therapists…And every one of them took one look at me and decided my weight was my fault, and refused to hear us when we said that I never ate more than any other kid my age. It wasn't until I was sixteen that anyone really listened. A nurse practitioner gave me my first well-woman check, and in her gentle voice, she explained the symptoms of Polycystic Ovarian Syndrome to me; the irregular cycles, weight gain, hormone imbalances, insulin resistance, abnormal hair growth, and infertility. And suddenly, my entire struggle had a name. I no longer felt like a mysterious, bloating freak. I had a real problem. And so I began treating it and learning about it.
For a very long time, I focused only on the most prevalent issues that face one with PCOS. I focused on my weight, and my cycle. Because I was young, I didn't obsess over fertility. In fact, I considered my supposed infertility a blessing. I didn't need to take birth control inside of a committed relationship, because it wasn't like I could get pregnant. I learned a lot about trusting medical knowledge 100% when I was 19 and stared down at the positive pregnancy test in my hands. But this post isn't about that either.
When my daughter was born, I focused again on my weight and my cycles. Those were, of course, the hallmarks of PCOS. I charted my cycles, obsessed over dietary changes, tried to find ways to treat my hormones naturally. I thought I was doing well to make small changes, and that I could find a way to beat the diagnosis…
And then one day I noticed a hair. It was a small, innocuous, sort of dirty blonde hair. I would have been proud of this hair had it been any place other than on my chin. I stared at that hair incredulously. HOW?!? WHY?!? NO!! Chin hair is for circus freaks and little old ladies. It's not for twenty-something moms in college! I rushed to find tweezers. I pulled that hair as fast as I could, and decided to deny its existence. But we all know what happens when you pluck one hair. It's like a hydra. Three grow back in its place.
Soon, I became a regular plucker. Even though I couldn't stand the pain, I also couldn't stand the sight of hair on my face. I didn't mention the hair to anyone, not my husband or my mother…not my best friends. Who wants to admit that they feel like a circus freak? But my plight didn't end here. Oh no. I started to notice that the hair above my lip was a darker blonde than it had ever been. And it was longer! I could feel it overhang the curve of my lip just the slightest bit. It was unnerving. I began to feel so betrayed by my body.
I've never felt particularly feminine, but I always felt like a woman. And now my body was trying to pull a switcheroo!
A month ago, as I cruised through my local Target, I broke down and did the one thing I hoped I would never do. I bought a little bottle of hair-remover, specifically formulated for facial hair. When I got home, I painted the stuff over my lip. The faintly perfumed chemical smell was strong, and I couldn't look in the mirror. I felt so ashamed of myself, of my body. But I also didn't want to be more of a freak than I already felt like as a
morbidly obese woman. When my husband questioned me about the gunk on my face, I told him the truth. He understood, but he let me know that he loved me no matter where hair was growing on my face or body. I could feel his love, and it helped me to feel less freakish.
And now, I'm looking in the mirror and noticing that the hair is growing back, darker and more noticeable than it was before. I see this as my own doing. I've now created a stronger version of the monster I've feared. And I must decide if I should force the hair back into submission. Should I expose my body to harsh chemicals just so I never have to see my face on some mean blog somewhere that exploits women with a genetic penchant for hairy bodies or hormone issues? Should I hide my true self, ashamed to show those
physical reminders that I suffer a true medical condition? Can I hold my head high and wear a mustache and chin hair like it's not abnormal? Do I have the self-esteem to cast off the sideshow imagery and see myself as beautiful, no matter what?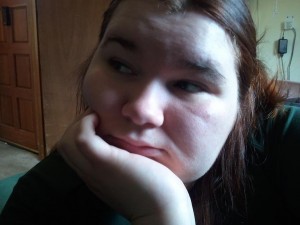 Holly lives in the Emerald City with her husband, daughter, grandma, and two kitties. When she's not in school or taking care of others, she reads and knits. She very infrequently posts at mis-adventuresindomesticity.blogspot.com, but mostly just lurks around facebook.
Holly also has entries at SOAM about herself and her grandmother.