Do you know who Matt is? As in Where the Hell is Matt? I first came across his videos several years ago and I LOVED them. To see the world in the way that he has, all the while sporting a really goofy dance, is both inspirational and silly. Which is my favorite combination of qualities.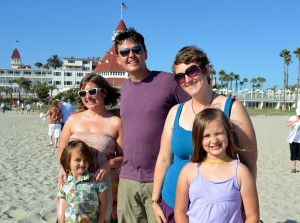 Well, last week I heard he was coming here to San Diego to film a spot for a new video he's making and I was all over that. I called up one of my best friends, gathered the kids, and we headed out to the beach on a hot Independence Day weekend (which shows how committed I was to this, normally I avoid the beach at all costs on holiday weekends). I wrote about the experience itself here, at my personal blog, but I wanted to share some other thoughts on the day here at TIAW.
Because the thing is I don't dance. I was out of sync with Matt and everyone else about 90% of the time. Also I have stage fright. Despite the fact that I majored in theatre in high school, I really am not comfortable in front of an audience (loved working backstage, though!). And while my younger self refused to wear sleeveless shirts period, let alone wave them around on camera for the entire interwebz to see, I refused to allow myself to go there. Because it's not good for me. And you know what? YOU inspired me to be strong and just have fun. And I did. I danced terribly. And while I might will totally be embarrassed by my lack of rhythm by the time the video is out (assuming San Diego makes the cut), I had so much fun that it will be totally worth having it memorialized online forever.
Wait.
No. Really I'm OK with it.
I wonder what my younger self would have done. Would I have been brave enough to wave my sleeveless arms around? Would I have been brave enough to show up at all? Would I have missed out on such an awesome day just because I was afraid of what I might look like? I don't know. But I'm so glad I know better than to miss out just because I may not look like a Hollywood actress.
I'll let you know when the video comes out. Even if I look like a dork. Actually, I think there's a fair bet that I will look like a dork. And I love that.