Well, of course it is. But some women are feeling insecure about the way they look. You know. Down there.
I really can't say it better than Chela Davison did at Beams and Struts when she wrote that article (honestly I tried to find just one quote, but I couldn't narrow it down. The entire article is powerful and vitally important to you as a woman. Go read the whole thing).
It makes me wholly sad to think that there are women out there who lament their very womanhood. A vulva is, arguably more than anything else, the essence of being a woman. And to regret the appearance of one's own ultimate female body part is heartbreaking. This is one of those times when I feel our Victorian tendencies to keep our bodies and sexualities hidden cause more damage than they do good. After all, if we all saw a variety of vulvas every day, their differences would become a spectrum of normal. Which is, of course, the intent with this website and SOAM – to recreate a spectrum of normal.
A couple of weeks ago someone left me a link on SOAM's Facebook wall and I followed it down the rabbit hole to this article. I was a little excited because I originally saw that picture (below) of the different vulvas in the article I linked in the first paragraph, but didn't know where it came from (and I kind of want a large print of it to hang in my house. Is that weird?). And it's not easy to find such an image online. Or maybe it is, but I was hoping to avoid that rabbit hole if you know what I mean. But we need to know that variety IS normal and I suspect pornography isn't the place to give us an accurate idea of the spectrum of normal in terms of vaginal beauty.
I'm not saying you should compare yours to your friends (although maybe I should be saying that) and I'm certainly not saying we should just drop modesty altogether (although maybe I should be saying that) but I am saying that there is something absolutely wrong with the idea that we could scorn something that we really have no way of accurately comparing to a wide variety of others to see where it fits in terms of beauty. We have enough to struggle with in what's readily visible to the world – our faces and figures and a host of other bits and pieces – that I cannot fathom why we'd even open the door to worrying about what our vulvas look like.
And that spectrum of normal? Quite diverse, actually. See?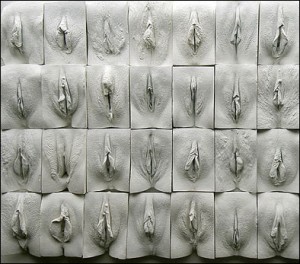 So how about you? Do you have concerns over what your vulva looks like? Or are you happy with it no matter what?