A few weeks ago, I was sitting around a warm kitchen table with two of my best friends when one of them (I'll call her Jane) mentioned wanting a boob job someday. She has lamented her breasts to me on more than one occasion, seeming to believe they were the only ones like hers in the world. I told her time and again, I see lots of boobs every day and I've seen lots like hers. But I don't think she believed me. So on this occasion, our other friend said, "Show them to us." Jane hesitated, but complied. And they were just as she described them. And they were normal. And they were beautiful.
And then our other friend lifted her shirt. And pretty soon we were all doing it. And then we took a photo. A group boob photo. You know. How you do.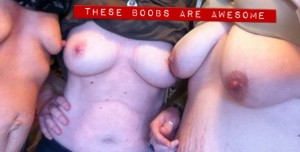 Turns out, it's very hard to take a group boob shot and get all the boobs in at once.
And it was empowering. So much.
It reminded me of one of my very favorite SOAM entries from way back in 2006. A group of moms who'd met through a playgroup and then become very close all got together and posed for a topless group photo. At the time I was a little jealous, and also a little relieved. I loved the sisterhood, the diversity, the love among all those women with different body types. I was a little nervous about stripping in front of friends.
Despite my claims that my friend's boobs were well within the spectrum of normal and therefore beautiful, she was having a hard time accepting it. She doesn't get online as much as I do, so I grabbed my phone and opened up my TIAW board on Pinterest and showed it to her. (Can I just say thank goodness for the interwebz? Srsly.) Interestingly, she picked out the thumbnail of this image, too small on my phone to read the text. Pointing to the bottom image she said, "See? THAT is beautiful!" I pulled up the full sized pin for her:
.
I don't know how deeply it settled into her mind and into her heart, but I do believe it made an impression. There is beauty in every body.
If my friend chooses to get a boob job, I will still love and respect her exactly the same as I do now. But my years working on SOAM, and my years spent working on learning to love myself both inside and outside have taught me that it really is possible to learn to love even unconventionally beautiful parts of our bodies. Furthermore, my theory is that cosmetic surgery is a band-aid, not treating the root of the problem. I wonder what, beyond her boobs, she would focus her self-abuse on? Another body part? An emotional aspect? A facet of her personality? Based on the work I have done in my own life, both in self-love, and in health issues, I find that treating the root of the problem tends to be the most wholly healing solution. Learning to truly and deeply love yourself, tends to result in, well, self-love. And the discovery of your beauty comes with that.