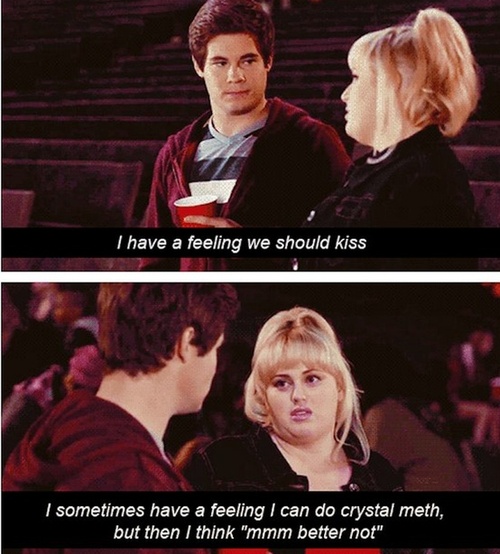 A few weeks ago my friend Bethany sent me an email telling me how much she'd loved Pitch Perfect and how inspiring she found the character Fat Amy. Bethany's almost always right, but I was still dubious because too often has Hollywood pretended to support plus sized characters only to wrap them in an envelope of fat jokes. I know people say there's a good message at the end of Shallow Hal, but how much can an audience really learn while they're mocking an entire population of people the whole way there. I call bullshit.
So, while I probably wouldn't have gotten around to seeing the movie on my own (not just because of the fat jokes), I decided I'd go out for a night at the movies to do research. My job is HARD, you guys. Also, Bethany totally went to see it again with me, so it was like mixing fun with fun. Or work with fun. Or. Something.
Before I go on, I want to add that the word "fat" is kind of interesting in that some people find it empowering while others find it offensive. I think, like so many words that oppressed populations take ownership of, this one can be freeing to people who grew up thinking fat was the worst thing to be. I know that there was a moment in my life where I stood and looked at myself and said, "Yes. I am fat. I am also brunette. I am funny. I am smart. I am many things." The word "fat" is simply a descriptor. It lost all power when I let go of the negative connotations.
I think that is where the character Fat Amy is coming from. She's comfortable with who she is. Entirely. She introduces herself as Fat Amy, she says, "so twig bitches… don't do it behind [her] back". (And of course I don't support the skinny-hate any more than the fat-hate. We're all gorgeous. We're all real.) But for Amy, it's more than just avoiding gossip. She wants to make it clear that size is not an issue for her. That she's done her work, if she ever had any, on that aspect of her soul. She is saying that she can't be bullied over her size because fat isn't a bad thing. She has transcended fat phobia. She's open to friendship as long as you don't go there. Because There is stupid anyway, and she doesn't need to spend any time with people who spend time in Stupid. I like that Amy owns her size. This may be the first Hollywood movie I've seen that gives a nod to fat acceptance.
Overall I'd say the movie is pretty progressive as far as Hollywood movies and overweight people go. There were (comparatively) hardly any fat jokes. But there were fat jokes. It wasn't enough for me to disown the movie, but I really wish I could be writing about a movie that totally left that behind. Because you know, honestly, I don't think the audience would walk out saying, "But? Where was the part where I got to laugh at the fat chick?" It turns out movies and TV can, actually, be entertaining without offending anyone. Who knew? Oh right. The people who made Roseanne, or Gilmore Girls.
This Wall Street Journal post talks about how more overweight women have become successful in recent years, but that for most of them, it's success at a cost. In particular they talk about Melissa McCarthy's recent success. I love this woman, and I'm so glad she's getting recognized. But I hate that it's only for playing a fat weirdo. She was awesome for all those years on Gilmore Girls when she played a person who was just a person. Size was never an issue for her character. But no one seemed to notice the actress behind the role. Until she played a clown in Bridesmaids. No success until you submit to society's rules. The same story women are told at every size, in every job, at every age.
On a lighter note, this XOJane article, written in response to the WSJ one linked above, gives a good list of some strong plus-size characters in TV and movies.
So, if you have some interest in this movie, you may want to hit the theatre this weekend. It's a feel-good movie with a romantic element to it. The music is fun, and there are some great jabs at misogyny. Amy is, over all, a strong woman (as you can see evidence of in the meme above), as are many of the female characters. If you see it – or if you already have – let me know what you think of it. How does it compare to Shallow Hal or Roseanne?